Drink Coasters
Expand your target Market by advertising on your very own Drink Coasters!
Qty

Drink Coasters
94mm x 94mm

2000

$295.00

4000

$555.00

6000

$725.00

8000

$885.00

10000

$1030.00

10000+

By quote
PREPAID ONLY

Above price is for 1 x complete order using identical artwork for full order.
Wording only changes can be made - $20.00 per change
DELIVERY CHARGES $25.00 per 2000
Design of artwork included, using your logos, photos and other relevant information.
On receipt of your Drink Coaster artwork approval, your Drink Coasters will be batched and sent to print.
Once printed your Drink Caosters will be forwarded to your street address by courier. A signature will be required at time of delivery.


Drink Coasters are a subtle but effective way to advertise to your target market!
Do you provide a product or service that would benefit from extra exposure? of course you do.
Drink Coasters are such a cheap and effective way to reach your target market. So don't delay, get your drink coasters order in today!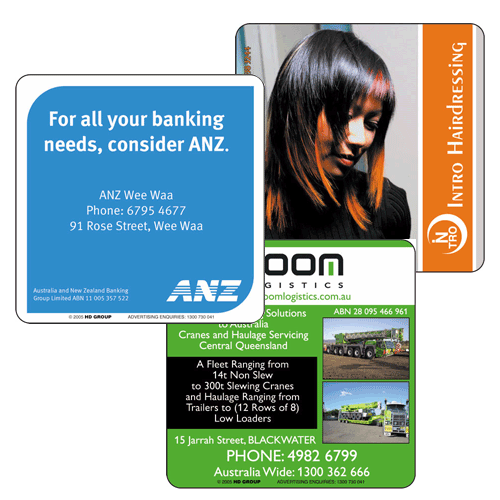 Wether you are in Queenland, New South Wales, Victoria, South Australia, Western Australia or Nothern Territory. It doesn't matter. Cards Plus works with a customer base Australia Wide.