Business Cards
Make a first Impression that lasts!
Professional Business Cards make a statement!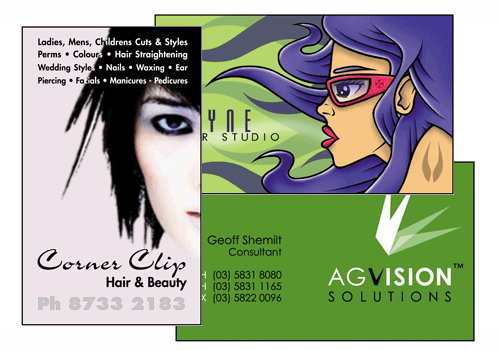 * Prices below are for FULL Colour front - black or grey scale on back and include FULL gloss celloglazing to front only so you can write on the back. Standard size 90mm x 54mm.
*Matt celloglazing is available at an extra cost of $25.00 per 1000. These are celloglazed in matt on BOTH sides - you can write on the back of matt finish.
*To trim to smaller size 90mm x 45mm, please add $25.00 per order
NOTE- ALL PRICES BELOW INCLUDE FULL COLOUR PRINTING ON FRONT AND BLACK & WHITE/GREY SCALE ON REVERSE
* Please note all prices Exclude GST
Qty

Gloss Celloglazed
Front only

Matt Celloglazed
Front & Back

Artwork
One Side

Artwork
Two Sides

Trim to smaller
size

1000*

$99.00


$133

+$50.00
(Redeemable)

+$65.00
(Redeemable)

+$25

2000*

$198.00

$248

+$50.00
(Redeemable)

+$65.00
(Redeemable)

+$25

3000*

$288.00

$363

+$50.00
(Redeemable)

+$65.00
(Redeemable)

+$25

4000*

$378.00

$478

included

included

+$25

5000*

$468.00

$593

included

included

+$25

6000*

$538.00

$688

included

included

+$25

7000**

$608.00

$783

included

included

+$25

8000**

$678.00

$878

included

included

+$25

9000**

$748.00

$973

included

included

+$25

10000**

$818.00

$1068

included

included

+$25

20000**

$1518.00

$2018

included

included

+$25

20000+**

By
quote

By
quote

By
quote

By
quote

+$25
Before ordering please view our artwork specs, click here!
Above price is for 1 x complete order using identical artwork for full order.
DELIVERY CHARGES
* Add $18.00 for delivery
** Add $33.00 for delivery
REDEEMABLE ARTWORK - If you order, and pay, for 4 or more sets x 1000 Business Cards in a 6 month period, we will refund the In House Artwork charge. Artwork charge will be deducted from your 4th set.
On receipt of your Business Card artwork approval, your Business Cards will be batched and sent to print.
Once printed your Business Cards will be forwarded to your street address by courier. A signature will be required at time of delivery.
First Impressions
Business cards are your very own personal calling card and first impressions are so important. They make a statement about who you are. A well designed card helps to create a positive image.
Our Business Cards
Presented on 310gsm gloss art board using full process colour on the front. The Business Cards measure 90mm x 54mm.
All our Business Cards are celloglazed, FREE OF CHARGE
Printed black and white on the reverse side, FREE OF CHARGE, if required.
Artwork charges apply to first order. Subsequent orders will be charged the print only charge providing there are no artwork changes ( staff name and phone number change OK).

Producing the Best business card ever!
Cardsplus are experts at providing professional Business Card, Coasters & Magnetised Calendars, Every time!
First impressions are important when promoting your business and your first impression to a potential client is usually made with your Business Card.
With a little creative thinking, you can make your Business Cards lively and attractive, as well as being of more use to your clients.
Although Business Cards have become an essential part of the business world, they are sometimes overlooked as being a part of an overall marketing strategy. Most people see Business Cards as a means of providing contact information for a client or potential client.
Your Business Card says everything about you, making it an essential business tool but it can also be a persuasive marketing tool. You can include promotional copy and service incentives as well as the standard name, address and telephone number. The business card is also an integral part of your company's visual identity and a well thought-out and designed Business Card allows you to specialise in and attract the sort of business you want.
You need to make sure you add value to your Business Card by including useful information on the back of the Business Card, including information about your products and services. As once you give someone your business card, you need to give them a reason to want to hold on to it, and of course call you. You could put a Calendar on the back of your Business Card, at no extra cost to you.
So, when it is time to order your next set of Business Cards, think about whether you are getting the most out of the Business Card you have. If you need any advice on how to improve your Business Card, give us a call and our designers will create one for you which will keep your clients coming back for more.
Once you have invested time and thought into producing the best Business Card to represent you and your services, make sure you always have plenty in your bag or wallet to distribute (at least 50). There's no point in having brilliant Business Cards if they are always stashed in your desk drawer. At a corporate dinner or function, you will often have the opportunity to meet at least a dozen people - even more if you are a good networker. Leave a lasting impression. Use every networking opportunity that arises to introduce yourself to strangers, lay down the formative foundations of a business relationship (this can be as simple as saying, "I'm in the wedding industry; please let me know if I can ever be of assistance") and leave them with your calling card. It's a great way to get -and stay - noticed.

Whether you are in Queenland, New South Wales, Victoria, South Australia, Western Australia or Nothern Territory. It doesn't matter. Cards Plus works with a customer base Australia Wide.